Money Within Minutes
From Little Loans To Big Advances.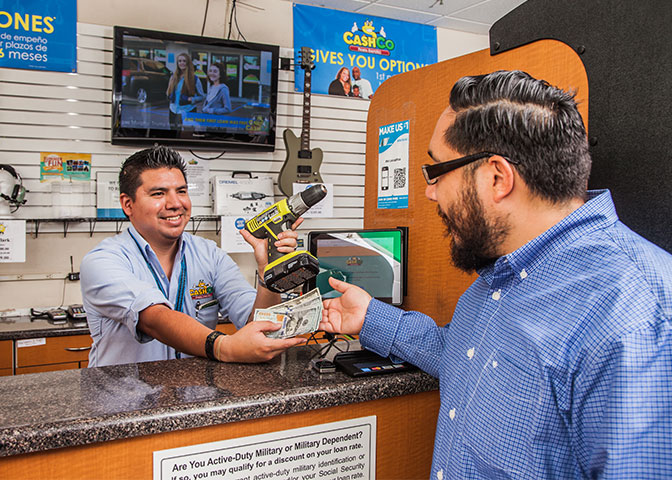 Unexpected financial needs happen, and in today's economy, most people are living on a paycheck-to-paycheck budget. A pawn is a short-term collateral loan that can help you meet an immediate cash need. The advantage of a pawn loan is that you can get the money you need instantly without selling or losing your items. Traditional bank loans require credit checks and income verification, and payday lenders charge absurd fees, but a pawn is easier than that. It's simple! Bring an item as collateral, a valid ID, and get a loan against your item's estimated resale value. When you are ready, payback the loan to get your item back.
Terms & Rates
Get the loan that fits you best.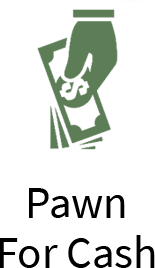 Plan Options:
You can renew or redeem your loan anytime based on a 4-month (120 days) plan, as well as, a 5 or 6-month plan option. Do note, our loans also carry a 10 day grace period per California law.
Annual Percentage Rate (APR):
In California, pawn loan interest rates are capped at 3% per month plus fees and storage.
The annual interest rate on a typical loan of $125 is 54.72%. This APR includes all fees that will be assessed at loan redemption or renewal.
Please refer to the example image for a full representation of a 4-month loan.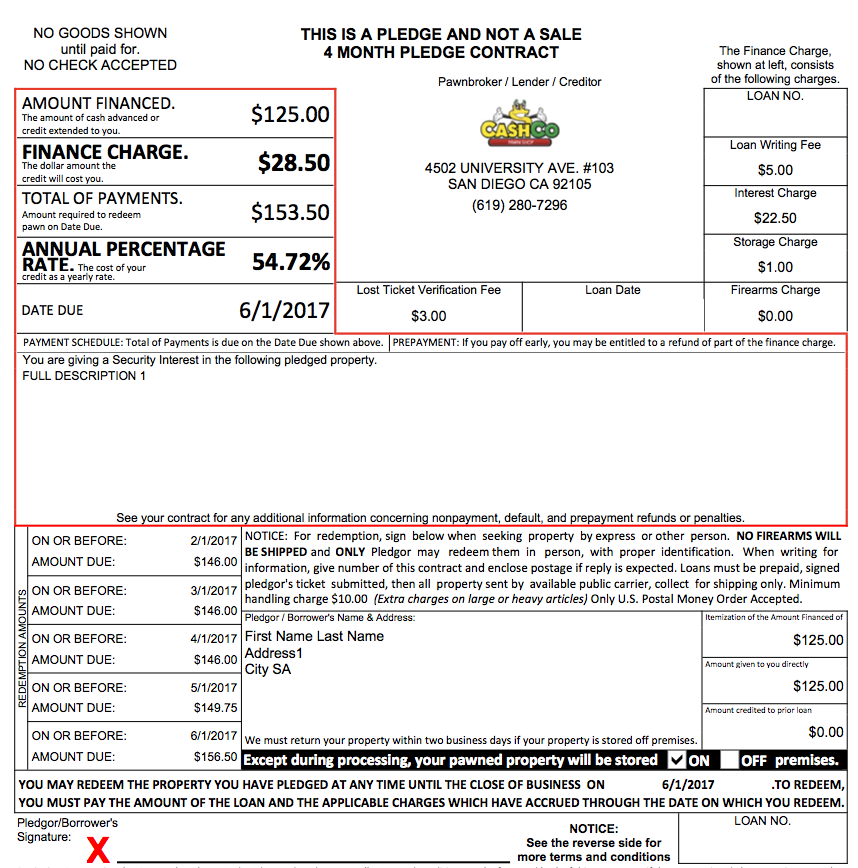 Do not hesitate to call or chat with us for additional information.
Pawnable Items
All goods are considered.
How Pawning Is Supposed To Work.
Loans You Need At Rates You'll Love.
For confidential, convenient, and fast cash loans on jewelry, watches, diamonds, and other collateral because we are the trusted pawnbroker among San Diego pawn shops. We require no credit checks and do not report to credit rating agencies. You deserve personalized attention, respect, and to be treated with dignity. If you have any questions or need more information about the items Cashco Pawn accepts, please contact us. You can CALL, CONNECT or CHAT with us.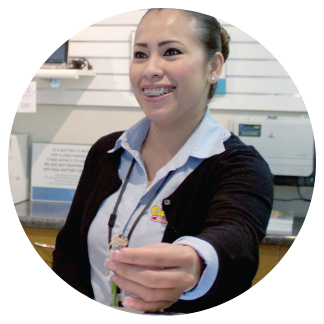 FREE EVALUATION
Items are evaluated to give the most amount possible.
1. DETERMINE VALUE
A specialist will determine the value for your pawn.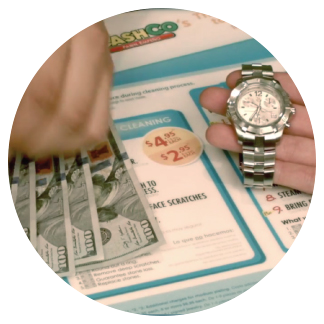 2. GET CASH FAST
You receive the cash you need by the specialist.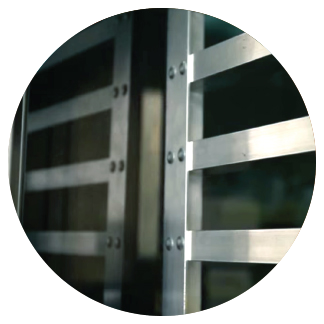 3. SECURELY STORED
Items are packaged properly and securely stored.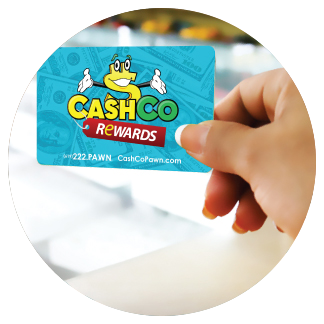 4. INSTANT REWARD
Every Pawn equals a point to your CashCo Rewards Card.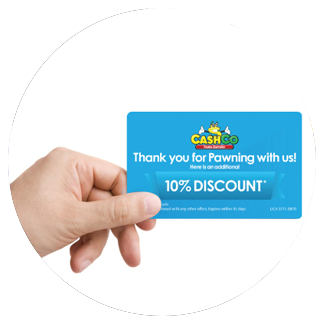 5. BONUS BENEFIT
Use this on the spot discount to shop at CashCo today
FREQUENTLY ASKED QUESTIONS
Getting a short-term loan shouldn't be an embarrassing experience. At Cashco we work hard to prove stereotypes wrong with excellent customer service and a friendly professional environment. Visit one of our three locations today!